Veterans Common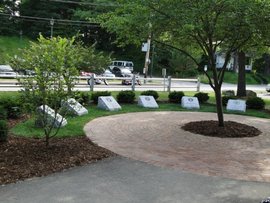 A Veterans Common honoring the service and sacrifice military veterans have made for our nation was dedicated Saturday, June 27, 2009 at Plymouth State University.


Sponsored by Phi Beta Upsilon—a fraternity which was started by veterans for veterans at Plymouth State in the early 1970s—the Veterans Common project began in 2007. It was born from an idea suggested by Franklin Powers '59, a retired colonel of the US Air Force, to hold a reunion for alumni who served in the military. As the reunion plans developed, the PSU Office of Alumni Relations worked to establish a place on campus to honor military alumni.

---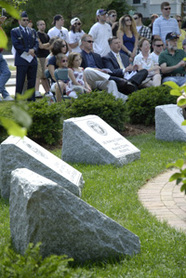 "This is a small token of our never-ending gratitude for your service," Stephen King, president of the Phi Beta Upsilon Alumni Organization told the veterans. "The Common serves as a constant reminder of the sacrifices you have made."

When Vietnam-era veterans returned home from active duty they often found the reception they received to be less than warm. Recognizing this, four veterans attending Plymouth State formed Phi Beta Upsilon to create an encouraging and supportive environment for other veterans on campus.


"The four founding members of this fraternity showed great foresight with their decision to create a safe place on campus for students who were returning from the war in Vietnam," wrote U.S Senator Judd Gregg in a letter to commemorate the event. "This memorial dedication today provides validation to that original idea and a lasting tribute to all who serve in the uniform of our armed services."

---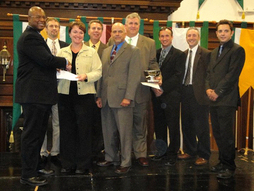 The brothers also presented the final payment for their sponsorship of the Veterans' Common created on the campus because of their initiative. L-R: Terry McKenzie '84, Tony Albright '87, Sylvia Bryant, PSU excutive director of Advancement, George Pervanas '84, Terry Fife '85, King '86, Scott Turner '89, Dana Gaudette '88 and Jeff Leclerc '08.


The Veterans Common, located between Hyde Hall and High Street on the PSU campus, features a round brick-lined circular walk with granite monuments inscribed with the seals of military service branches.


---